Tag: Technology
As I approach my 50th birthday, I've been having fun coming up with various lists of 50 things – 50 people I want to meet, 50 sitcoms I've watched at some time in my lifetime, 50 quotes I like, etc.
Among the lists of lists, I gen'd up two of books I want to read (50 is far too small a number for either list, but it fits with the age thing): 50 books I own that I have yet to read – I have many, many more than that, and 50 books that I do not own that I want to read. Of course, if I ever read any of them, I will likely find myself adding to my library (no surprise there).
Physics of the Impossible by Michio Kaku happened to be first on my list of books that I do not own that I wanted to read. I picked it up last Monday when returning A Confederacy of Dunces to the library. I hadn't planned on getting it – I was only looking to see if it was in – but was taken in immediately by the subtitle: "A Scientific Exploration into the World of Phasers, Force Fields, Teleportation, and Time Travel". Not unlike Star Trek – I'm Working On That by William Shatner and Chip Walter, the book promised a survey of science fiction concepts becoming a reality, but very unlike Shatner's book, here was a theoretical physicist doing the looking and explaining why something could not be done or how it might.
It's a rare scientist (or engineer for that matter) who is truly respected by his/her peers for research results/theories who can also communicate to the masses. Richard Dawkins certainly made that leap (his early books are more academic than his later works). When it comes to physicists, I think the pool shrinks. Stephen Hawking did a marvelous job conveying cosmological concepts in his books, as did Brian Greene – though Green's books, while quite readable, are still fairly technical for the average person.
Michio Kaku writes a very readable book…for a physicist who is the co-founder of string field theory. Perhaps that is an unfair qualification. I have known many physicists who are wonderful conversationalists, but I don't know if they are so because I am interested in their subjects or that they are simply wonderful conversationalists with everyone. Regardless, Kaku writes as one of those wonders. Peppered throughout this book are references to other books (a lot of fiction), a few movies, some history of the people and science behind the science. Those may make Kaku more accessible to the average reader, but I think it just shows that he has a life outside of theoretical physics.
In Physics of the Impossible, Kaku looks at science fiction to see what might possibly become science fact. He breaks down his subjects into three classes of impossibilities:
Technologies that are impossible today, but do not violate known laws of physics and may be possible in some form in this or the next century (these are force fields, phasers, Death Stars, ETs and UFOs, teleportation, starships/antimatter engines, antimatter universes and certain forms of telepathy, psychokinesis and invisibility.)
Technologies that "sit at the very edge of our understanding of the physical world." They may not be possible at all, and if so, will likely only be possible thousands or millions of years in the future (these are time machines, hyperspace and wormhole travel as forms of travel faster than light, and parallel universes.)
Technologies that violate the known laws of physics, which if possible, will result in a fundamental shifting of understanding of physics (Kaku notes there are surprisingly few such impossibilities, examining only perpetual motion machines and precognition).
Of course, one should read the book before thinking that Star Trek's transporters, phasers, warp engines, or shields (force fields) could ever become a reality. I won't spoil your read by revealing what the "certain forms" might be, but you can guess that Dr. McCoy won't be complaining about having his atoms scattered across the universe for many centuries to come.
I was intrigued by Kaku's discussions of what one would call paranormal, but after he gently observes that there has never been any real evidence for telepathy, psychokinesis or precognition, he explains the physics behind how one might be able to realize a part of the first two (precognition violates the known laws of the universe, thus cannot be performed through any technology…but is not completely impossible.) I liked his summary of science and psychokinesis:
One problem with analyzing psychokinesis scientifically is that scientists are easily fooled by those claiming to have psychic power. Scientists are trained to believe what they see in the lab. Magicians claiming psychic powers, however, are trained to deceive others by fooling their visual senses.
He's fair where research has had some seemingly positive findings, but does note that "fully half" of the successful trial of the Princeton Engineering Anomalies Research Program "originated from a single individual" and that the results are always non-reproducible.
The lesson here is that while almost nothing is impossible (what scientists really mean is that these ideas are impossible for primitives such as us), the technology needed to overcome the impossible is impossibly advanced.
So, I strike one from one list and add at least seven, as I now want to read Kaku's other books. I highly recommend Physics of the Impossible as a diversion from the contemporary news.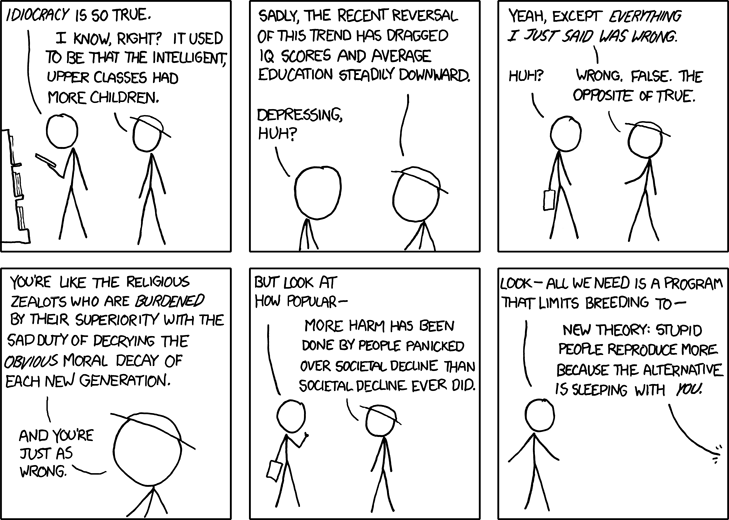 I know it is wholly unoriginal of me to link to the comic XKCD, but today's strip was just too true to life: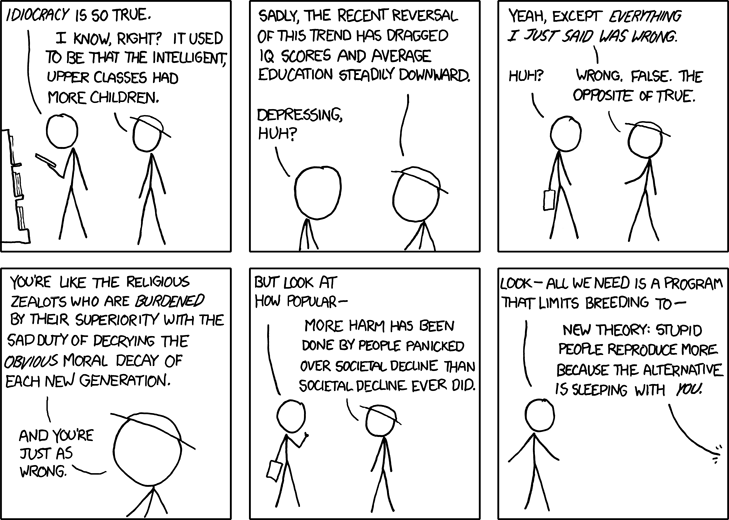 Almost nothing annoys me more than the bemoaning of the future as an immoral, uneducated, unenlightened time. Many people- of both conservative and liberal ideologies- call up sunny images of a past where people were happier, smarter and "better". Usually we can point to political and technological advancements that demonstrate this is not the case.
My deeply-held belief is that the future is bright and brimming with promise, that today's youth are not hopeless or devolved, and that new fangled technology will not cause the collapse of our species. When bad things arise, we are tempted to look to the past with a fond and foggy nostalgia- as if fundamental human problems were not always the same. Bringing apocalyptic rhetoric into the discussion of modern problems is inappropriate, I think, because every generation has its big, scary troubles. As this comic advises, we should always look to the evidence and not catastrophize.

It's not that I'm infatuated with the words of Potus44, but Barack Obama's inaugural address (that I've already addressed) hit quite a few notable notes. One of which was the promise to "restore science to its rightful place". He also said,
"Promoting science isn't just about providing Resources-it's about protecting free and open inquiry… It's about listening to what our scientists have to say, even when it's inconvenient – especially when it's inconvenient.
That's a breath of fresh air, indeed. But the real question and challenge will be: What exactly is this Rightful Place? The previous administration acted as though they believed that science belongs after political expedience and the Bible, not necessarily in that order. They fired or censored anyone whose carefully calculated conclusions disagreed with their prejudged opinions. It will be a long time cleaning up the resulting mess.
Mike the Mad Biologist posted: To Restore Science to Its Rightful Place, We Need to Redefine Elitism. In brief, science is not easy to follow once you reach the discoveries of The Enlightenment and beyond. It takes a certain amount of education and dedication to know good science from pseudoscience. And this is anathema to American principle of Democratic Populism, the idea that all men are not only "created equal", but are in fact equal.

It didn't take long to realize what that that "Photo Enforcement Program" letter from the City of St. Louis was all about.   As I opened the letter, the only thing that occurred to me was to make sure whether the letter was for me (as opposed to my wife).  It was for me.  I had gotten nailed by the new photo traffic enforcement system that the City of St. Louis installed near my house.   Over the past 30 years, I've received a total of 2 traffic tickets.  I guess I was due.
I was pissed, of course.  This was going to cost me $100 even though I didn't do anything flagrant.  I had rolled a right turn onto a high entrance ramp through a red light.  This occurred at a traffic light 1/2 mile from my house.  I had done it hundreds of times; hundreds of other safe drivers do it every day.   My crime is that I failed to come to a complete stop before turning right to accelerate down that highway ramp.  I was going about 5 mph around that corner. I remembered the strobe flash going off that day last week; at the time, I wondered whether it was aimed at me.  Sure enough.  I should clarify:  I don't always roll through that right turn.  If ever there is any traffic in the area, or any pedestrians, I always come to a complete stop.

In the September 19, 2008 Editorial of Science (available only to subscribers online), Normal R. Augustine reports lots of sobering news regarding the state of science in the U.S.   Here's a sampling: The United States ranks 16th and 20th among nations in college and high-school graduation rates, respectively; 60th in the proportion of college graduates […]

Here is Barack Obama setting forth his plan for keeping America energy independent.   His plan is that America should control it's own energy and it's own destiny.  How?  By taking real steps away from purchasing $700,000,000 of foreign oil every day and, instead, creating our own energy.  We import more than 1/2 of the oil […]

Back in February, I posted a quote from The Gods Must Be Crazy about the needless complexity of modern life. The quote has made me stew on the topic ever since. We live in a world awash in technologies designed to make life easier, but that often only bog us down. An air conditioning unit […]