Category: Education
I am often asked, "Why do you fight against religion?" Today my answer would be best expressed by this article from the New York Times.
A new documentary called "Saving Africa's Witch Children" will be airing Wednesday May 26th on HBO2.
The documentary follows Gary Foxcroft…
…founder of the charity Stepping Stones Nigeria, as he travels the rural state of Akwa Ibom, rescuing children abused during horrific "exorcisms" — splashed with acid, buried alive, dipped in fire — or abandoned roadside, cast out of their villages because some itinerant preacher called them possessed.
One of the main subjects of the documentary is Helen Ukpabio.
At home in Nigeria, the Pentecostal preacher Helen Ukpabio draws thousands to her revival meetings. Last August, when she had herself consecrated Christendom's first "lady apostle," Nigerian politicians and Nollywood actors attended the ceremony. Her books and DVDs, which explain how Satan possesses children, are widely known.

So well-known, in fact, that Ms. Ukpabio's critics say her teachings have contributed to the torture or abandonment of thousands of Nigerian children — including infants and toddlers — suspected of being witches and warlocks.
If ever there was a reason to continue to strive to undermine the authority of religion, this is it.

I have from time to time made the point that the entire debate over abortion and birth control and almost the whole edifice of what we call Fundamentalism in the world, in whatever religion, is all essentially over controlling women.
Here is an article which has one of the most bizarre takes on the entire issue I've ever seen. The central premise is early on stated in 0ne sentence that defines all of this nonsense, in whatever creed you care to name.
"Sexual relationships, while enacted privately, are public property."
The twists in logic, never mind rationality, are among the most byzantine I've ever encountered. What is more, the writer doesn't seem to understand that this "philosophy" reduces children to little more than marks on a scorecard. The exhibition of marital health and fidelity is all that is important. The attempt to limit family size and indulge private acts privately for private purposes is reduced to an attempt to deceive the community, pure and simple.
But ultimately, as in all other instances of this kind of obscene interference with the personal, it is the women who bear the costs, the burdens, and the responsibility.
I suppose the next step would be to devise a kind of tracking bracelet for the penis and vagina so someone somewhere can determine when either is being used and where.
I have no answer for this kind of inanity (or insanity). The fact that this makes sense to some people disturbs me no end, because it means that some people cannot see past the end of their own prurience. Yes, I said prurience, because to come up with this kind of thing, rather than demonstrating a balanced healthy appreciation for sex, shows an obsession with it that can only be described as prurient.

I got this Stumble from our own Hank over on FaceBook. A concise and accurate look at the origins of the currently imagined link between autism and vaccines. The Facts In The Case Of Dr. Andrew Wakefield

I recently ran across this 2009 article about a young woman who apparently tried to overdose on a homeopathic drug called "Traumeel." I'm not trying to make light of a sad situation, but only to use this example to illustrate the widespread ignorance regarding homeopathy.
A good description of homeopathy was given by James Randi in his 2001 talk at Princeton:
Note the math lesson beginning at the five minute mark. Homeopaths argue that the more dilute a solution is, the more powerful it is. At the 7:30 mark, Randi explains that a "30X" solution is so dilute that it reaches the "number of no return." "30X" is so dilute that it is the equivalent of placing 15 drops of water in a container more than 50 times the size of the Earth. Other homeopathic solutions are available in 1,500x solutions. How dilute is that? It's the equivalent of (12:00) smashing one grain of rice into a sphere of water the diameter of the solar system, shaking it up, and then further diluting that same solution 2 billion more times in an equivalent sized sphere.
To bring the matter full circle, at the ten-minute Randi explains how he ate two entire packages of a popular homeopathic sleeping pill (sold at nationwide pharmacies) without overdosing. Believe it or not, the active ingredient was caffeine.
At 13:30, Randi characterizes the people who sell these "medicines" "swindlers, liars, cheats, frauds, fakes, criminals."
For more on homeopathy, now used by five million people world-wide, consider the many statistics in my earlier post and consider viewing this video by Richard Dawkins. At the 3-minute mark, Dawkins wryly notes that if water really had "memory" of the ingredients it formerly contained (as fans of homeopathy contend), what should we make of the fact that "in each glass of water we drink, at least one molecule has passed through the bladder of Oliver Cromwell." At the 5-minute mark, when discussing whether homeopathy theory is plausible, the Director of a brand new English hospital (who actually was trained as a rheumatologist) unleashes this whopper of a quote: "The fact is that I couldn't stop what I do even if I wanted to. My patients wouldn't let me. They say it helps."
BTW, check out the not-so-impressive medical research by the manufacturer of Traumeel. The manufacturer's recipe of a British narrator uttering big scientific words is featured in this video, and it is doubtless irresistible to many potential purchasers. Here's a bit of much needed skepticism regarding Traumeel.
Whatever you do, don't utter the word "placebo" to anyone who pays big money for these "medicines."

Pharyngula linked over to this YouTube channel dedicated to debunking each piece of Climate Denialism as it comes up. Here's a sample:


This is fun–actually delightful. Bobby McFerrin plays the audience, and they produce a pentatonic baseline for McFerrin's improvising.
World Science Festival 2009: Bobby McFerrin Demonstrates the Power of the Pentatonic Scale from World Science Festival on Vimeo.
For more of McFerrin's magic, watch the video below:
World Science Festival 2009: Notes & Neurons, Part 1 of 5 from World Science Festival on Vimeo.

A few months ago one of my neighbors, a proudly conservative man, saw me carrying a package of high-efficiency light bulbs into my house. He gave me a disappointed look loudly said: "Buy some real light bulbs, Erich." This neighbor has repeatedly made it known that that liberal concerns and proposals regarding energy are unnecessary because there is plenty of oil and coal, and we should make it our national priority to keep digging and burning these resources.
I know that my Republican neighbor is not the only "conservative" in the U.S. willing to scoff at conservation. I previously argued that this anti-energy-efficiency climate–science-denial attitude like my neighbor's outlook has become a badge of group membership among conservatives. It has become a salient display that one believes, above all, in the alleged power and wisdom of the "Free Market," an unsubstantiated leap of faith so incredibly bold that I once termed it the Fourth Person of the Holy Trinity (and see here and here). These free-market fundamentalists are contemptuous at well-informed suggestions for using energy resources more efficiently and for reducing our reliance on dirty and dangerous fossil fuels. Many of them consider national policy aimed at energy conservation to be totally unnecessary and ridiculously expensive. Proposals that we should be smarter consumers of energy annoy and anger them and they offer no evidence-based alternatives for peak oil (and see here and here and here ). They refuse to consider the damage being done to our environment, our health and our budget (especially our military budget) as a result of our reliance on fossil fuels .
My neighbor displays a startling lack of curiosity regarding the ramifications for continuing to attempt to drill and dig our way to energy independence. This same attitude is found in many conservative politicians, the most prominent being Sarah Palin. Based on an extraordinary video of a recent debate at Washington University in Saint Louis, this same attitude is also embraced by of the executives at the largest private coal company in the United States, Peabody Coal Company.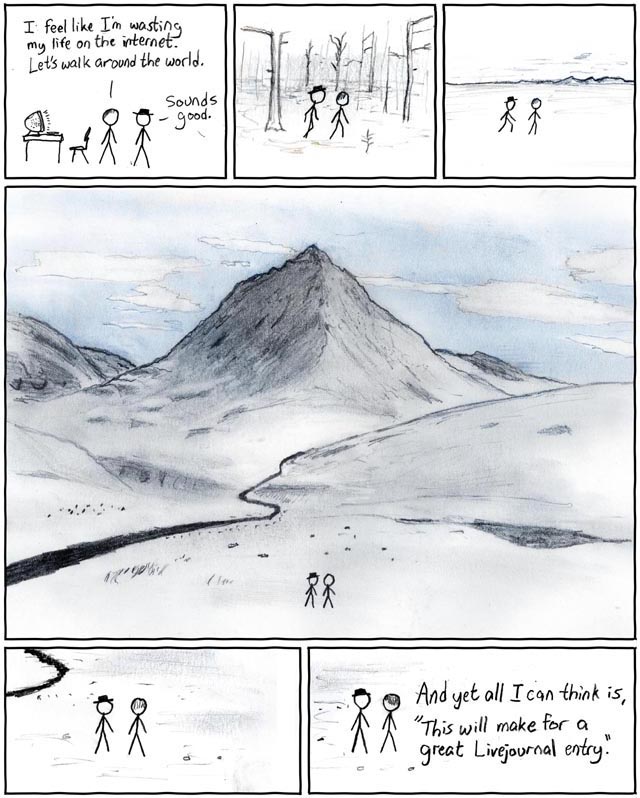 A new comment thread on an old post discusses the precept that humans are somehow "better" than all other creatures. Sure, as a member of our team, I'd like to think that we are Number One. We've even written books attributed to deities that prove that we are the reason for creation, that the octillions of stars in the universe were all put there just for our amusement. Therefore, the book and its believers maintain, we must be the best thing ever. But as an educated human raised by scientists to find first sources and question suppositions, I wonder: "How are we better?"
I have posted before on some of the ways in which our Creator (to use that paradigm) has short changed us. Name any characteristic of which we are proud, and it is easy to find another creature that exceeds our ability. I can only think of one exception: Communicating in persistent symbols.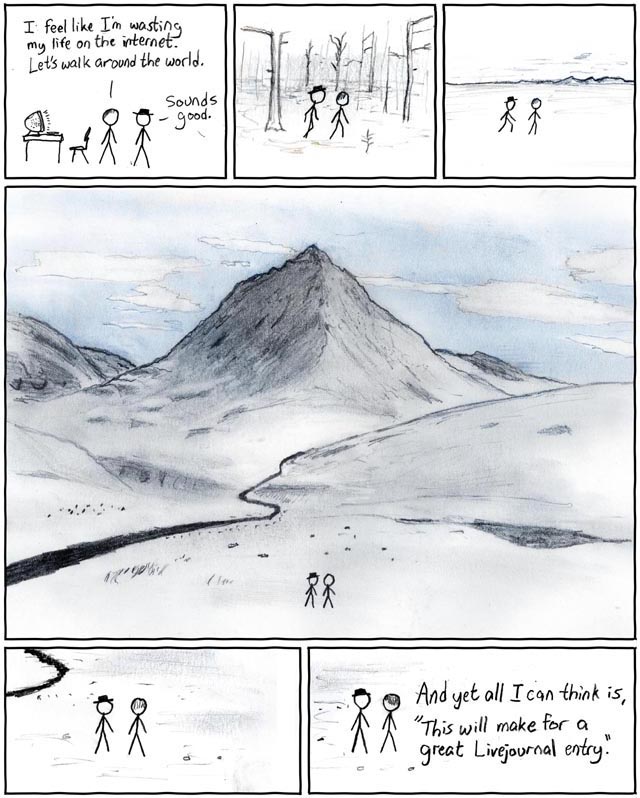 Unlike cetaceans, birds, fellow primates, and others who communicate fairly precisely with sounds, gestures, or chemical signals, we can detach communication from ourselves and transport or even delay it via layers of uncomprehending media (paper, wires, illiterate couriers, etc). We can create physical objects that abstract ideas from one individual and allow the idea to be absorbed by another individual at a later time. It also allows widely separated groups to share a single culture, at least in part.
This learned behavior is based on our apparently unique ability to abstract in multiple layers and to abstract to a time well beyond the immediate future. We can take an idea to a series of sounds to a series of static symbols, and back again. Our relatively modern ability to reason abstractly (math, science) evolved from our ability to abstract communications. Even Einstein couldn't hold the proof of E=MC2 in his head.
But is this unique ability really sufficient to declare ourselves overall inherently "better"?