Archive for February, 2009
Why is this fire hydrant in the middle of Forest Park, in St. Louis, Missouri? Is it there for the firefighters in case an ant hill catches fire? A flower?
If I used the logic employed by Creationists, I might simply say that God put that fire hydrant there. To the extent that anyone accepts such an explanation, there would be no need for further inquiry (nor any real possibility for further inquiry).
To the extent that someone accepts the "explanation" that "God did it," he or she would miss out on a rich factual history, teaming with direct evidence upon which one can build an incredibly strong circumstantial case. One really can explain the presence of this hydrant, even without direct evidence (presumably, no one who saw this hydrant being installed is still alive).
I'm working on a post regarding creationism (including its modern version, "intelligent design"). Yesterday's walk in the park reminded me that circumstantial evidence can be strong, indeed. In fact, circumstantial evidence can make for airtight cases. Circumstantial evidence can even be much stronger than authority (because authorities–e.g., the park police–are often wrong). Therefore, people who really want to know don't simply throw up their hands and declare that the hydrant is there "Because God put it there" even when a person in a position of authority tells them this story.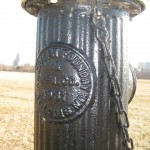 An inspection of this hydrant shows that it was manufactured in 1887 (or is that number 1881?). It was thus installed sometime after 1881. Why would it be installed in the middle of a park? Perhaps it wasn't just a park back then. Perhaps it was installed because that land was to be the location of a huge construction project: the 1904 World's Fair held in St. Louis. Perhaps, after the Fair was over, this hydrant was not removed. Perhaps there are some photos of the Fair that would include this little fire hydrant, a vestigial reminder that something much more elaborate once occupied this place. All of these questions can be answered if one takes the time to examine real evidence that is currently available. If one looked further for evidence, one would find tons of corroboration, including a huge "Flight Cage" that now houses a bird exhibit at the St. Louis Zoo, also an original part of the 1904 World's Fair. Of course, one could also find numerous books filled with photos, names, dates and interviews. Notice that I'm referring to corroborative written materials–many sources that overlap–not simply reading one book over and over until one is more and more convinced.
Creationists are happy to employ these open-minded investigative methods almost always, in almost every aspect of their lives. This method of asking questions and then following the evidence wherever it leads is actually an extension of common sense. It's a shame that when it comes to one particular incredibly important aspect of their lives, determining what kind of beings we are, creationists refuse to use this direct extension of common sense.